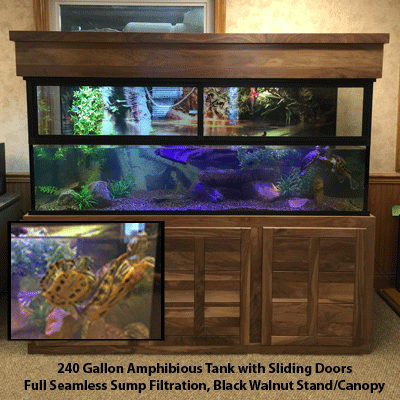 Our Half Land – Half Water Aquarium Feature:
Glass or acrylic sliding front, side, or back door options
Seamless Sump complete filtration available with H2Overflows and Siphon Stopper outputs
Keyed lock for security
Professional marine grade aluminum framework with minimal gaps where crickets can't escape!
Printed backgrounds available, including land/water themes
Multiple options for water depth
Glass lids can be manufactured to be partially ventilated with cricket proof perforated aluminum
Sliding doors on top of the tank available
Custom wood materials and finishes available for stands and canopies
Benefits of Half Land – Half Water Aquariums
Half Land & Half Water Customized Amount: The bottom half holds water, the top half is great for viewing giving your plants and animals dry space with easy access! The half land – half water feature is not limited to just 50% land and 50% water. We can alter the water depth for you. For example, you can order a customized aquarium with 20% water and 80% land for your pets that need a little water in their enclosure but are mainly land-dwelling animals. Our half land – half water aquariums make perfect turtle aquariums, as well as habitats for other amphibian and reptile species such as caimans, snakes and chameons.
Sliding Doors: Now any of our standard aquariums can be made as amphibious aquariums with sliding front, back, or side doors for easy access to your amphibious animal. Our sliding doors make it much easier to reach in and feed you animal or clean the enclosure from the sides of the enclosure rather than reaching in from the top. Sliding doors on the top of your tank are also available if desired.
Stands and Canopies: Our durable Majestic stands and canopies are built to keep your aquarium sturdy and conceal aquarium accessories such as heat lamps, wires, Seampless Sump, overflow systems, filter systems, tubing, baffle and reservoir tubs. The Majestic stand and canopy makes your amphibious aquarium look professional and are available in various custom wood materials and finishes.
Vibrant Aquarium Backgrounds: The aquariums from Custom Aquariums can be manufactured with your choice of background, brilliantly colored to make your tank stand out!
Please call us for a quote at (844) 244-8265 or start building your Custom Aquarium online now!
Please see more amphibious aquariums below or visit our YouTube channel to watch more of our aquarium product videos!