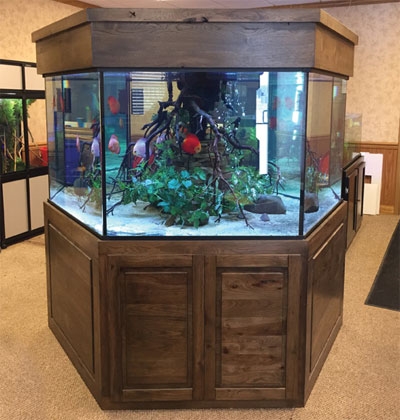 Why are Custom Aquariums so popular in doctors office waiting rooms?
An aquarium enhances the look of these waiting rooms, but research shows that an aquarium can also relax patients before their appointment.
What does a doctors office aquarium look like? And what makes Custom Aquariums the most popular choice for doctors offices in the USA? Read on to find out.
Custom-Built Aquariums for Doctors Offices
Our team of skilled engineers can create a beautiful aquarium for your doctors office. We offer many shapes, styles, and sizes for your doctors office aquarium. Whether you are looking for a square, pentagon, hexagon, rimless, or half-land-half-water aquarium, we can start custom-building it for you today.
After choosing the size and style of your tank, your team can choose the type of stand your aquarium will rest on. We offer many stains and finishes such as maple or solid oak to name a few. No matter which type of aquarium you configure, no other doctor's office will have one just like it. Our glass aquariums are completely customized by you and our proprietary products help them last a lifetime.
Click the Aquarium Configurator below to get started! Or, keep reading to learn more about our aquariums.
Doctors Office Fish Tanks And Aquariums
Once your team finishes configuring your doctors office aquarium, you can choose from an array of accessories. These include, but are not limited to:
Backgrounds
Glass lids
Cleaning supplies
Filters
Pumps
Protein skimmers
Racks
Our engineers use only the highest quality materials and fabrication techniques to build your custom glass aquarium. They are safe, strong, dependable, and a beautiful addition to your waiting room, where they can help relieve the stress of your patients. Our aquariums for doctors offices are one of a kind and will not lose their clarity or scratch easily like acrylic aquariums.
Also, our glass aquariums for doctors offices are not mass-produced but are instead built one by one by our expert engineers. You can count on a level of quality and craftsmanship that other aquarium producers can't match.
Doctor's Office Aquarium Shapes And Styles
The glass doctors office aquariums come in many shapes, styles, and sizes. We offer many designs, but our most popular is the Majestic Aquarium. The Majestic Aquariums are designed as classic looking with wood finishes or contemporary with black or white paint. Remember, you can also request additional finishes for your aquarium stand and canopy.
Please watch our customer testimonial videos if you're considering one of our doctors office fish tanks. You will see first-hand accounts from our clients who've gotten a custom doctors office aquarium! Please reach out today if you're looking for your own customized aquarium and have specific customization in mind.
Serenity Aquarium Services
Custom Aquariums works with our sister company, Serenity Aquarium Services, to provide installation and cleaning on doctors office aquariums. We have over a thousand accounts and our service area spans 40 states in the US.
Our team is always here to help with your fish tank. We work with each customer before, during, and after installation. Through our aquarium service packages, we provide fish tank cleaning and maintenance on a regular basis.
Ongoing Aquarium Services:
Health inspection and care of aquarium(s)
Replacement of fish and accessories
Removal of excess fish if necessary
Cleaning and sanitizing of fish tank
Recommendations on feeding and fish types.
If you are interested in purchasing an aquarium, please browse our aquarium packages and specials. If you have any questions about our doctors office fish tanks or cleaning services, don't hesitate to reach out.