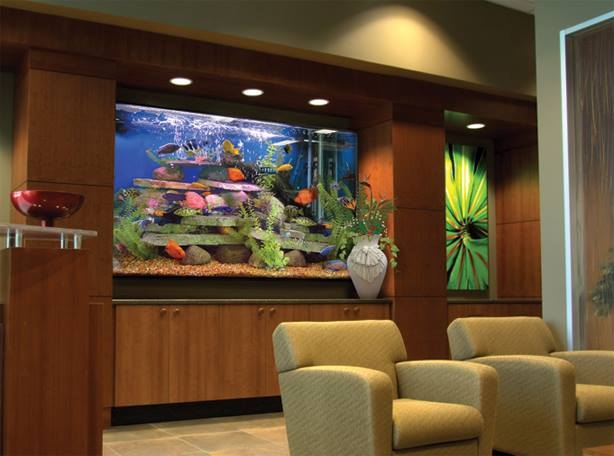 Custom Aquariums offers many shapes, sizes, and styles of aquariums for museums. In fact, you can configure and design your own glass aquarium or fish tank. It does not matter if you are searching for a square, pentagon, hexagon, rimless, or amphibious aquariums, we have something that will fit the needs of the museum. We offer both saltwater aquariums and freshwater aquariums, which are engineered to your specific design of choice. In addition to picking the size and style of your museum aquarium, your team can choose the type of Majestic Stand or canopy your museum fish tank is supported on. You can choose from a contemporary or classic look for your canopy and stand. Our glass aquariums for museums also come with many accessories that make your fish tank last a lifetime and run smoothly.
Museum Fish Tanks And Aquariums
Now that your team has configured your museum aquarium by size, height, style, and shape, they can choose from several accessories for your fish aquarium. Some of our accessories include protein skimmers, filters, pumps, glass lids, cleaning supplies, backgrounds, and our Seamless Sump. When our engineers manufacture your museum aquarium, we use the highest quality glass and fabrication techniques in the industry to ensure your glass fish tank lasts. Through our expertise and quality craftsmanship, our glass museum aquariums do not scratch easily or lose their clarity. We never mass produce our museum fish tanks on a production line as we pay close attention to detail for each part of the aquarium. Our glass aquariums for museums will be a great addition to your display, as they are truly one of a kind. The best part about designing a museum aquarium with us, is no other museum will have a fish tank just like yours.
Museum Aquarium Shapes And Styles
Our glass museum aquariums come in various shapes, sizes and styles. If you are planning having more than one museum aquarium or fish tank, you can configure them to have stacking ability, as we have aquarium racks that make it easy. In addition, the furniture quality stands can be built with adjustable sliding doors, which make your museum aquarium maintenance hassle-free and easily accessible. Our maintenance crews can give recommendations on which fish to put in your aquarium for museums. They will also provide your team information on the best feeding protocols and practices to ensure your fish are healthy. When your custom museum fish tank is completed by our engineers, we will deliver it free of charge. If you have questions about our glass aquarium customization options, contact us today and one of our aquarium experts will be happy to help.
If you are considering purchasing one of our custom aquariums for museums, please watch our video testimonials to get an idea of just how customized these museum aquariums can get! Our customers mention to us again and again of how detailed we are; not only in our aquarium building but also in our communication with the client, from the time the aquarium is ordered, to the shipping process, to when the aquarium arrives at your location!
Serenity Aquarium Services
Custom Aquariums works with our sister company, Serenity Aquarium Services to provide installation and maintenance services for aquariums and fish tanks. We have over a thousand service accounts in over 14 states. Our team is always here to help with your fish tank or aquarium as we work with our customers directly during the installation and after purchase phases. It does not cost as much as you think and we will even come and clean your glass aquarium for you.
Ongoing Aquarium Services: Health inspection and care of aquarium(s), replacement of fish and accessories, removal of excess fish if necessary, cleaning and sanitizing of fish tank, and recommendations on feeding and fish types.
If you are interested in purchasing an aquarium, please browse our glass aquariums, or if you have any questions please, contact us today for more details on how to configure your own fish tank.