Amphibious Aquariums & Paludariums
Your choice of glass or acrylic sliding front, side, or back doors
Seamless Sump® complete filtration available with H2Overflows® and Siphon Stopper® outputs
Keyed lock for security
Professional marine grade aluminum framework with minimal gaps where crickets can't escape!
Printed backgrounds available, including land/water themes
Multiple options for water depth
Glass lids can be made partially ventilated with cricket proof perforated aluminum
Sliding doors on top of the tank also available
Custom wood materials and finishes available for stands and canopies
Aquarium Unique Sliding Door Feature
Now, any of our standard amphibious aquariums can be made with sliding front, back, or side doors for more convenient access to your amphibious animal! This benefit also eliminates the hassle of removing the top of the turtle aquarium whenever you need to reach into the enclosure. The bottom of the paludarium holds water, the top half is great for viewing and giving your plants and animals dry space with easy access.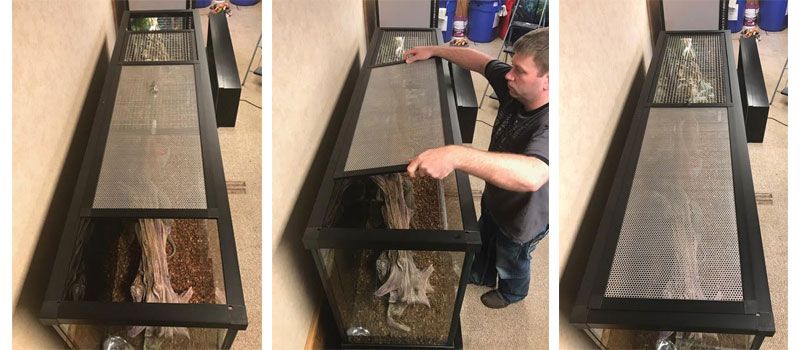 Half Land & Half Water Customization
Our amphibious aquariums are half land and half water but do not have to be limited to a 50% land, 50% water setup. For example, you could opt for 75% land and 25% water for those animals which are mostly land dwellers but need a little water in their environment to thrive. These paludariums make excellent habitats for turtles and other reptile and amphibian species such as caimans, snakes, and chameleons. Turtle aquariums are great as well for terrarium setups with live plants and multi-species! These amphibious aquariums also work great for aquaponics! Additionally, our paludariums are also available on our other site, Custom Cages!
Lifetime Aquarium's amphibious enclosures combine the best of aquariums and vivariums.
Superior engineering, materials, and fabrication techniques combine to create our Custom Aquariums. Go ahead and configure your own custom aquarium by providing your email address and an aquarium name, then click "Start Now!" If you have previously created a configuration, you may open it by providing your email address further below on the page. Build your customized amphibious aquarium or paludarium today!