Built Like A Tank
We don't accept just "acceptable standards"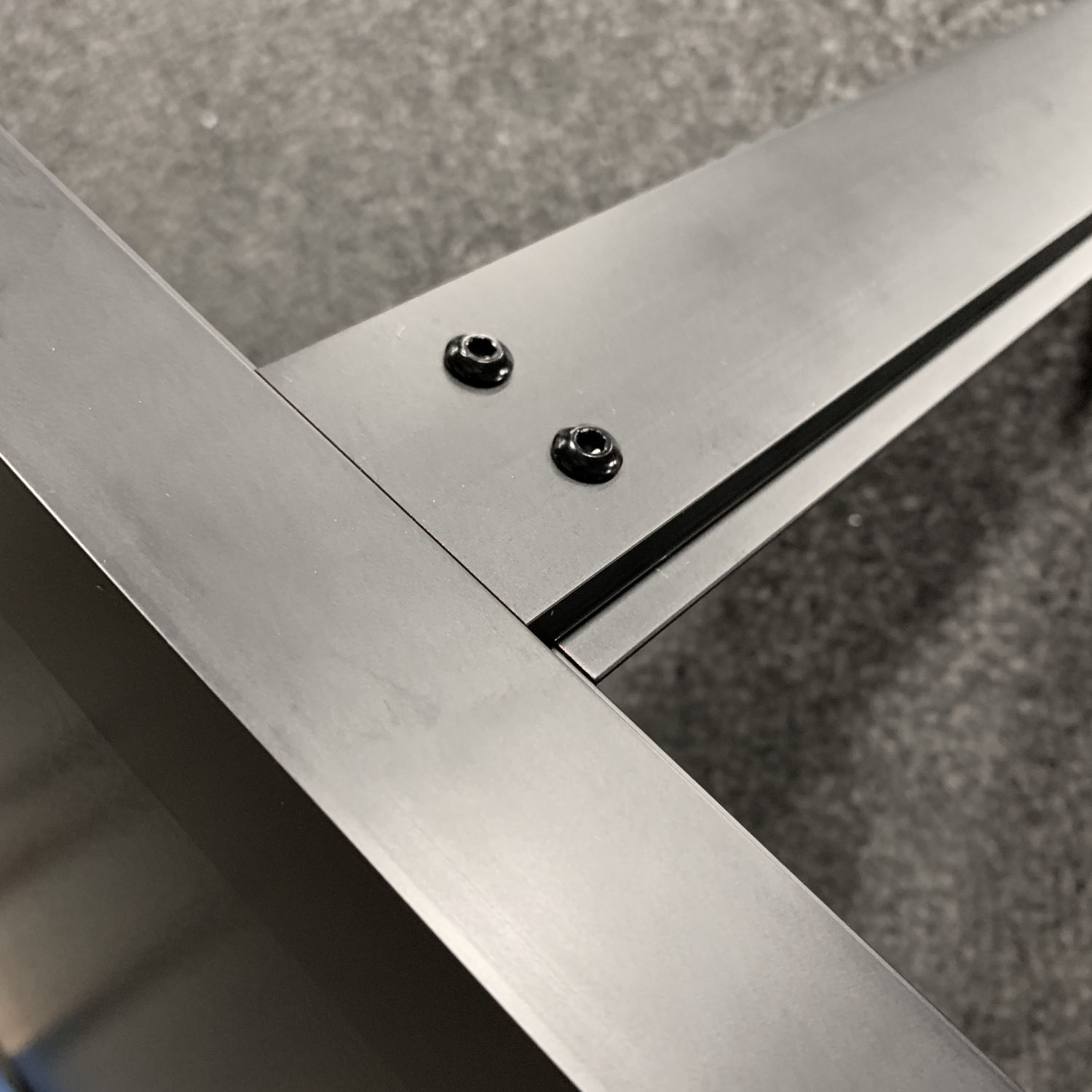 Anodized Aluminum Frame
We make a patented black anodized aluminum frame. The frame is stronger than plastic or euro bracing.
Our frame will never rust, corrode, or become brittle from salt and light exposure. It is the strongest most advanced frame on the market.
Learn About Our Frame
Precision Glass
We use thicker stronger glass for our aquariums. We also bevel and polish every edge of each pane of glass, even the edges hidden by the frame.
We use glass over acrylic for its scratch resistance, strength, and resistance to chemicals and yellowing.
Learn About Our Glass
High Strength Silicone
Our aquarium-grade black silicone is five times stronger than standard clear silicone.
The strength of an aquarium is dependant on the strength of the silicone bonding.
Learn About Our Craftsmanship
Don't just take our word for it
Watch some of the many YouTube videos from our friends and fans. We are inspired by what they have made, and we think you will be too.
Explore Videos
Aquarium Package Specials
Want a complete setup? Below are our most popular package specials ordered at discounted, bundled prices!
If you're looking for saltwater aquariums or freshwater aquariums to add fish, marine life, or corals into your life, then you've reached the right place! Custom Aquariums has been selling top-of-the-line freshwater and saltwater fish tanks to hobbyists, beginners, and experienced aquarium owners for over two decades. In addition to our saltwater aquariums and freshwater fish tanks, we also have patents on several aquarium filters, pumps, glass hole cutters, aquarium lighting supplies, cleaning supplies, and more. So even if you're a DIY aquarium hobbyist, you have the option of purchasing top-tier accessories from us. If you need assistance from our aquarium experts, give us a call, even if it's on the day we deliver the fish tank to you!
Connect With Us
Get the latest updates on our innovations right in your news feed. See how others are using our products, and get tips and inspiration on aquariums, fish keeping, aquascaping, and more.
Majestic® Stands & Canopies
Not all custom aquarium stands and canopies are created equal! Our Majestic Enclosures® have many advantages over other brands. With a solid 3/4" plywood top and back as well as a solid hardwood framework, no shortcuts are taken in our designs. You will not find any particle boards, which tend to swell and crack over time, used in our stands or canopies. While we have many standard styles and stain/paint colors to choose from, we can also custom match your decor. All of our freshwater and saltwater aquariums are built in-house by our full-time professional craftsman. Our stands and canopies are not just practical but are also genuine heirloom quality hand-made furniture pieces. With materials made in the USA, you will not find a better value of quality craftsmanship and price anywhere else for your custom fish aquariums, freshwater fish tanks, and saltwater aquariums.
Learn More
Shop Majestic Stands
Lifetime® Stands & Canopies
Our Lifetime® aluminum-framed stands and canopies are some of the most durable of any custom aquarium stand and canopy system available on the market today! They make a perfect fit for anyone looking for a reliable aquarium stand and canopy for their freshwater or saltwater aquariums. The frames are made from anodized aluminum that will never rust, chip, or corrode. They are very lightweight, yet they are engineered in a way that allows them to withstand extreme loads from even large tanks! These stands and canopies take only minutes to break down, resulting in easy transport, storage, and installation.
Learn More
Contact Us To Order
Custom Cages
We also make cages! Custom Cages, our sister company, manufactures a wide variety of built-to-order bird, reptile, and small animal cages! Our cages are endorsed by Jack Hannah of the Columbus Zoo & Aquarium and used by zoos all over the world, both large and small. Nobody has a unique, wide array of options to meet your specific cage needs like we do!
Visit Custom Cages