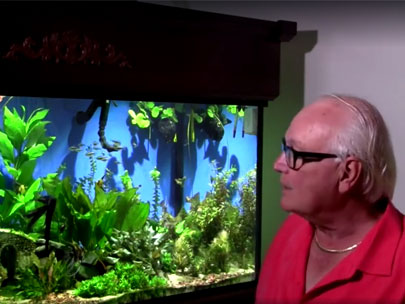 Check out Gerry's 180-gallon planted display tank from Custom Aquariums. Gerry has done a great job with his display, and has included some cool add-ons like a CO2 injection system, pH controller and a liquid dosing system for the plant fertilizers.
Working with Custom Aquariums for our custom turtle tank was awesome! They were willing to stain the tank green to match some of the other furniture we have in our restaurant and the construction quality was spot on. Also, the filtration system we bought from Custom Aquariums is rock solid as well. Turtle water is usually hard to keep clean but the filtration system we have is a workhorse…our turtles are pampered so that was a must-have for us! I would recommend these guys to anyone interested in a great aquarium setup

Thanks

Rob
Checkout the Custom 280 Gallon Glass Aquarium 24″H x 96″L x 24″D we made for Afton – Lakeland Elementary in Afton, MN! Thank you Afton – Lakeland Elementary, we greatly appreciate your business!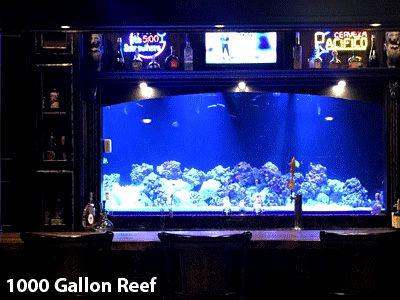 Here is a 1000 gallon reef tank we installed in Oklahoma City complete with H2Overflows® and Seamless Sump® filtration. We worked closely with the customers builder to ensure a great final fit and finish with the surrounding built in bar de'cor. The customer and his 3 young kids are extremely happy with the results. Stay tuned – he will be adding fish soon! Thanks for the pictures Daren!
The aquarium you designed is absolutely wonderful and a tremendous addition to our home. The craftsmanship and maintenance efficiency is FIRST-RATE!! THANK YOU!!

David Yetter
Here is my 300 gallon tank all set up. I would like to thank you for your help and excellent customer service! The aquarium is spectacular and Custom Aquariums' new filter technology is truly amazing. I rate them 5 stars and highly recommend them to everyone! Great job, Customer Aquariums!

Ethan Moss
Mike, Stacy,

Just received the aquarium, WOW, it's beautiful!!! Worth the wait and every penny. Congratulations on a brilliant job! Thanks to all who were involved, just love it!!

Many thanks,

Marc & Chris Fulton
I've had the aquarium in my office for 3 months and have never had more compliments about a single item-Starbucks coffee included! All ages from 2-92 seem to truly enjoy the tank!

Dr. Peter Hehli
I am highly satisfied with my purchase with custom aquariums, from my first conversation with Mike Grimes, to my final product, the service has been exceptional. I am thrilled with my customized product.

Rachel Moody,
Realtor
I sent a request into the customer service asking about my tank that had just developed a crack in the top brace. Seeing as it was a holiday, I did not expect to hear from anyone on the same day, but to my surprise I had a response within the hour. While the answer to my question was not what I was hoping to hear, I was very pleased with the quick response and the honest advise given. I will be sure to visit Custom Aquariums in the future for all of my aquatic needs!! I am very satisfied with the service that I received!

Jessica W.
Well the tank was started up Saturday night. It's very quiet which we love! So there's still some clarity yet to go, but I'm sure by tomorrow it should be crystal clear.

Alan Schafer
I wanted to send all of you down at Custom Aquariums an email regarding the beautiful aquarium that your company has built for me. First of all, the quality and craftsmanship put into this tank is absolutely outstanding! It is literally a 630 gallon work of art. I can barely put into words how beautiful this tank looks in my living room,and its not filled yet. The metal framework bracing the aquarium looks really sturdy and adds a very professional classy frame. I only point this out because most tanks out here in California I have seen use flimsy plastic or glass supports. So hands down your design is superior by far.

I also would like to mention, the amount of care the wood shipping container the tank came in was impressive, it was like a small house was built around the tank just to keep it safe, I appreciate that. And with your moving kit we brought it into the house with relative ease, don't think the ten of us could of done it without them.

To the workers that had their skilled hands on my tank, you guys have created a a true work of art. Thank you for being the true craftsmen that you are. I know my order was a tall one which had some ups and downs — thank you for seeing it through and building a quality tank for me, your craftsmanship shines all over this tank and each of you deserve recognition for your work, I am very pleased.

Mike, your customer service has been great ever since you first stayed late to take my order. This aquarium was not only worth the wait for you guys to build it ,but also worth every penny and then some. The quality is unmatched by any other tank I have ever seen, and I will gladly speak highly of your company to anyone whom is in the market for a glass tank built by true craftsmen.

In closing, I want the whole company of Custom Aquariums to know how very pleased I am with my aquarium that I purchased and I wish your company massive growth and happiness for years to come. Feel free to share this email with the world. I will send some pictures when I get the tank all set up! It will be a beautiful focal point of my house for my family and all that come to enjoy.

Thank you,
You have a customer for life,

Eric Cook
Hello Adam,

I am writing to thank you and your company for the professionally built, and well-crafted aquarium. The process was seamless and flawless. I am so GLAD that I found and selected your company. The aquarium is set up and looks beautiful. I look forward to the aquarium being a centerpiece of my living room for at least a decade. Attached is a picture of the setup aquarium.

Thank you so much again.

Alvin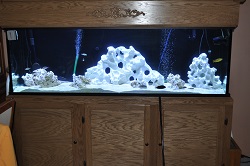 The 150gal tank I got from Custom Aquariums came in 700lb crate, and was very well packed. The tank and stand are of a very high quality and is 3/4″ construction. Here are some pictures: A great tank and stand.

Rich
Here is a great example of a 200 Gallon 360 view Hexagon we made for our sister service company Serenity Aquarium and Aviary Services. We have our own aluminum bracing system that gives really great support to all 6 sides – this allows us to make really big, really strong hexagon tanks at the most affordable price point anywhere – and the best part – they are glass!. Working on a 72″ diameter 350 gallon shark tank for our showroom as we speak! These are now available, call for a price!
"Here's our 110 gallon up and running! Thanks Mike and Custom Aquariums. We are absolutely enjoying this awesome aquarium. All the best,"

Ken Sylvester
Everything worked out great! Thanks Stacy, and have a great Thanksgiving!

Omar
Here is a photo of a 400 gallon custom glass aquarium and Seamless Sump® filter for Dr. Bob C. in Las Vegas, NV.

ATM (from the show "Tanked") installed the tank for the customer – will be building an impressive reef as well as performing ongoing service. It's turning out awesome Dr. Bob! Thank you for your business and support! We are proud to have great relationships with acrylic tank manufacturers like ATM to help serve the customers who prefer glass over acrylic.

Love the 120 length…looks good!

Brad Weisenstein
I have a 300 gal. reef aquarium that the top center glass brace broke off. After measuring the ends and center I noticed the center of my tank had bowed a full inch. In fearing that my front glass wouldn't stand the water pressure I looked online for any help I could find. Within the hour CustomAquariums.com came to my rescue. And within 3 hours a plan was in place! Thank you so much CustomAquariums.com for your quick concern to my emergency and helpful staff. I also have to say in being in this hobby for the past 25 years. It's been a major concern with the structure of aquarium tanks holding up to wear and tear caused by saltwater, new wave makers, and just water pressure. The design of the marine grade anodized aluminum frame makes for a long time worry free hobby.

Jesse Arias
I have a 220 gallon aquarium and I needed to replace the current acrylic sump that had started to leak so I purchased a sump system from Custom Aquariums .com to replace the current acrylic sump.

I wanted a sump that I did not have to worry about leaking over time. I found the Seamless Sump® System at Custom Aquariums. It is a modular system that you can customize to fit your aquarium. After a phone call for some advice I purchased two Seamless Sump® Baffle Tub Complete Package tanks along with one Single Reservoir Tub.

I needed a system that I could use as a filter and an over flow for my auto water change system I had installed. Because the Seamless Sump® System is modular they helped customize the system to fit my needs. The system is built like a tank and should last a life time. I have had the system setup and running for about 6 months. It is keeping the aquarium chemical levels (nitrites, nitrates. PH, etc.) At normal levels and the water stays crystal clear. Using the Seamless Sump® System along with my Auto Water Change System I had built that changes eighteen gallons of water per day I have had zero issues keeping the aquarium over stocked. I would highly recommend buying a sump system from Custom Aquariums. It will last you a life time.

Wade Sommer form North West Wisconsin